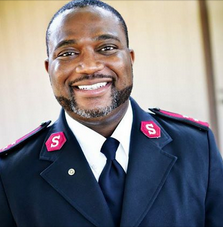 Welcome to The Salvation Army El Cajon Corps website! The Salvation Army has been in El Cajon since 1975 and has been preaching the Good News, caring for the people of our community and bringing hope and stability to thousands of families. As the San Diego East County continues to grow, so does The Salvation Army's commitment to care for those in need. The Salvation Army is uniquely positioned to create new programs and continues to tailor exisiting programs so that they match the needs of the community. I invite you to explore this website to see what The Salvation Army is doing and how you can be part of this great work.
Sincerely, Terry Masango, Captain.
Posted: November 23
The new Mother Goose parade route will begin on Ballantyne Street at Park Avenue. The parade will travel south to East Main Street and then turn right onto East Main Street, heading westbound toward Johnson Avenue. The parade will turn right and travel northbound on Johnson Avenue all the way to the Parkway Plaza mall. The parade will not affect our Worship Service this morning. See you at 10:45am!!
| | |
| --- | --- |
| | 1 comment |
| | |
| --- | --- |
| | 7 likes |

Tuesday, November 25, 2014, 6:00 am – 12:00 pm

Sunday, December 7, 2014, 5:00 pm
You're invited to the Sierra del Mar Division's Annual Christmas Concert on ...
Read More
Wednesday, December 10, 2014, 6:00 pm – 9:00 pm

Anyone who attended the Worship Service yesterday, knows that the Youth led a great service! With the wide variety of youth programs our corps offers, the kids had several opportunities to show what they learned in their …Read More

Over the weekend of October 24-26, 2014; the El Cajon Corps Men's Fellowship sent a contingent of 19 men to participate in the SDM Men's Retreat at the Salvation Army camp Pine Summit in Big Bear, CA. The …Read More